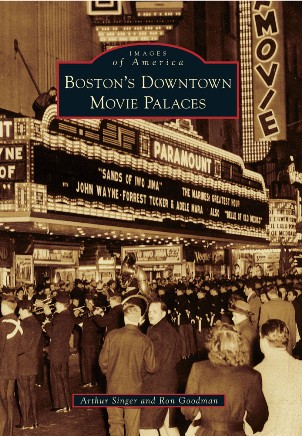 "This book is a ticket, a ticket through time to visit these places in their heyday. It is easier than ever to access film today. But entrée to most of these theaters is impossible. This book offers such access."
Part of Arcadia Publishing's Images of America series, Boston's Downtown Movie Palaces is an illustrated history of the city's major role in the development of the film industry.
It celebrates the magnificent movie theaters that have drawn people here since the late 1800s. Through more than 200 compelling images and fascinating stories, it takes us back to the glory days of movie going in the city and describes how most of Boston's great movie palaces and theaters were saved and restored.
Now in its second printing, the book has received critical acclaim. Authors Art Singer and Ron Goodman have been featured on radio, television, in area newspapers, and at libraries, bookstores, and private events.
What People Are Saying
"A glorious age, when lavish movie palaces were as big an attraction as the films they showed, comes to life in the pages of this fascinating book."
Dick Flavin, Playwright, TV Commentator, and Speaker.
"A marvelous telescope on Boston's history as a movie mecca! I loved the old photos illustrating this colorful and crucial first chapter in our movie-going past, and re-affirming Boston as a city always on the forefront of culture and technology."
 Joyce Kulhawik, Arts & Entertainment Critic/JoycesChoices.com
---
June
Newton Public Library – Book Talk
Tuesday June 12, 7:30 -8:30 PM
Newton Public Library – Ongoing Display
June 1-29
July
NewBridge On the Charles – Book Talk
Tuesday July 17, 7:45 – 8:45 PM