About the Authors
Arthur J. Singer
Arthur J. Singer is a broadcaster, communications and media manager, and author. He was born and raised in Boston's Dorchester area in the 1940's and 1950's and graduated from the Boston Public Schools.  From an early age, he was attracted to the arts and media of the city, from its seven daily newspapers to its diverse local radio stations and pioneering TV stations to its movie houses, theaters, and concert halls.
Singer spent 33 years in the public broadcasting industry as a producer, director, fund raiser, marketing executive and state network CEO. During most of those years, he also served as a consultant to public radio and TV station boards and managers for the Corporation for Public Broadcasting.
He later became Associate Vice President for TV, Radio, and Film Production at Emerson College in Boston and served as Board President of the Boston Neighborhood Network community access TV stations.
Today, he consults with broadcasting and nonprofit clients and is the founding President of the Massachusetts Broadcasters Hall of Fame organization.
Singer is author of Arthur Godfrey: Adventures of an American Broadcaster (McFarland 2000) and executive producer of the A&E Biography on the controversial star.
He holds two degrees from Boston University, a BS in Marketing and Advertising and an MS in Communications and is the recipient of a Distinguished Alumnus Award from his alma mater for Distinguished Service to Profession.
Ron Goodman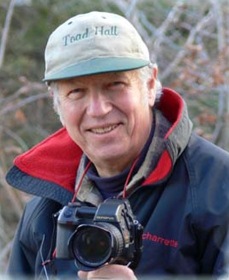 Ron Goodman is a lifelong resident of the greater Boston area, presently living in Quincy, Mass. His interest and experience with photography began in childhood and continues throughout his career as a college teacher of photography and as a published and exhibited artist.
His photographs have been published in many news and artistic publications including American Baby, The Boston Globe, Harvard Magazine, Boston Arts Magazine (Bosarts), and the New Hampshire Times. He was one of the artists selected to consult on the Arts on the Line project for the Massachusetts Bay Transportation Authority.
Goodman has also been the photographer for several publications, including  A History of Shipbuilding at Fore River published by the Commonwealth of Massachusetts, and is the photographer for The Boston Harbor Islands, a History of an Urban Wilderness published by Arcadia Press in 2007.
His love of the movies began at the Rialto Theater in Lowell where he first saw Destination Tokyo in 1943, and he became an avid film fan at the Brattle theater  in Cambridge where he was taken by his aunt to see The Red Shoes in 1948. He worked  and  lived in downtown Boston in the 60's and 70's and has vivid memories  of many of the movie venues discussed in this book.